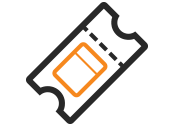 Buy Online Gift Cards for your Favorite Streaming Platforms
JumiaPay offers a wide variety of cards for the most popular streaming platforms in Nigeria. Choose your favorite from iTunes, Netflix, Spotify, Amazon Cards and much more.
Get 5% instant cash back on all vouchers and gift cards purchases

The 5% cash back will be instantly added to your wallet for future usage




Purchasing vouchers or gift cards has never been easier:
Sign up or log in to JumiaPay using your email address and password.
Select 'Vouchers' from the list of services.
Select the desired platform you'd like to purchase a gift card or subscription for.
Choose the voucher amount you'd like to purchase.
Complete the payment with your credit or debit card or your bank account on our secure payment platform.
You are done!